Famous Landmarks
The eastern Sydney suburb of Paddington is well known for its galleries, boutiques and many beautifully restored terraces. Paddington is home to Victoria Barracks, Paddington Town Hall, Juniper Hall and White City Tennis Club, and is bordered by the suburbs of Darlinghurst, Edgecliff, Woollahra and Surry Hills.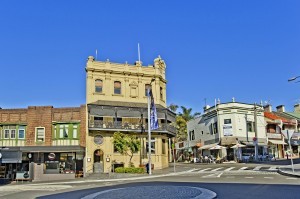 Real Estate & Design
Most Paddington residential development is characterised by single and double storey terrace style houses. As the Victorian period progressed and especially towards the end of the century, the simplicity of Georgian terraces tended to give way to elaborate decorations and wrought iron fittings. These small terraces give Paddington its distinctive architectural character.
Shopping
Oxford Street Paddington is considered Sydney's trendiest shopping area. Fashion, music, books, arts and crafts, homewares and food gives this area a special appeal to the young and those interested in the latest fashions. Also close by are the well known shopping villages of Double Bay and Woollahra.
Sports & Fitness
Trumper Park is located on the boundary of Paddington and Edgecliff which is used for Aussie Rules Football during winter and Cricket throughout summer. Neighbouring suburbs such as Darlinghurst offer a plentiful array of Gymnasiums, including the world famous City Gym open 24 hrs.
Distance from CBD and Transportation
Paddington is located 3.5 km South East of the CBD.
The 380 bus runs frequently from Bondi Junction along Oxford Street to the City and
the 389 runs via Hargrave Street and Glenmore Road on its way to Circular Quay.
History
Paddington developed last century as a small inner ring of cottages and terraces encircled by the mansions of the wealthy in Woollahra, Point Piper, Double Bay, Edgecliff and what is now Kings Cross. Although no record has been found to explain the origin of the name Paddington, it was in common use by the 1840's and was presumably derived from the London borough of Paddington. The name was used to sell land on the Estate belonging to James Underwood in October 1839 and the name Paddington Street dates from the subdivision of the land, the earliest documentary record so far traced of the name being used.
Restaurants & Cafes
Due to the high number of Public Bars (pubs), Paddington has become very well known for its pub restaurants culture. Hotels such as The Royal, The Bellevue, Four in Hand, The Grand National, and Lord Dudley offer various levels of dining at reasonable prices. Fox Studios has just opened it's doors and offers a vast array of Restaurants.
Schools, Education & Institutions
Glenmore Road Public, Paddington Public School, Sydney Grammar Junior School are located in Paddington, however within 5 – 10 minutes drive : Sydney Girls & Boys High, Ascham, Kambala, The Convent, St Vincent's, S.C.E.G.S, Cranbrook, Scots College, Waverley College, Sydney Grammar.